Advocating for disAbility in Dance
M.F.A. student Bradford Chin envisions a more inclusive future in dance
By Christine Byrd
Leotard. Tights. Classical music.
To M.F.A. dance student Bradford Chin, these aren't just universal symbols of ballet but potentially barriers for people who don't fit a predefined mold. In the introductory ballet classes Chin teaches at UCI, he gives students the freedom to wear what they're most comfortable in and sometimes even has them dance to popular songs by contemporary artists.
"It's fun, but more importantly, when I clearly signal my intention to break some of the unspoken rules of ballet, students realize they have permission to break other rules that they need to in order to fully exist in the space," Chin says.
Through his research and teaching in the Claire Trevor School of the Arts Department of Dance, Chin has become a leader in disability in dance — the concept that speaks not only to who can be a "dancer" but also shifts the traditional balance of power among the teacher, choreographer and dancer.
"Bradford is a catalyst for us at UCI," says Kelli Sharp, associate professor of dance and Chin's advisor. "He's really bringing disability justice to the forefront and is creating a scaffold for us to navigate that's more inclusive."
"Sense of Self"
Chin doesn't exactly fit the traditional mold of a dancer. He stumbled into the art fairly late in life —  as a high school student in San Francisco — and enrolled as a pre-med major at California State University, Long Beach before fully committing to dance.
"Movement was a way of digging into and finding my sense of self," says Chin.
Professionally, Chin danced at the LA Phil during its centennial season, served as teacher and choreographer at schools and organizations across the country, and then became a full-time company member and teaching artist at the Oakland-based AXIS Dance Company, which integrates disabled and non-disabled dancers. Chin planned to pursue a graduate degree to further explore disability in dance, and when AXIS let him go during the COVID-19 pandemic, he took that as a sign that the time was right.
He's really bringing disability justice to the forefront.
One in every four Americans experiences some sort of disability, according to the Centers for Disease Control, yet hardly any dancers call themselves disabled. Usually, disability ends a dancer's career.
"Dance, as it's currently done, disables a lot of people — injuries, stress disorders, eating disorders, body dysmorphia. These stick with the dancers for the rest of their life and create a disabling experience," says Chin. "Dance is a gateway to disability and also gatekeeps against disability. That's the tension we're working with right now."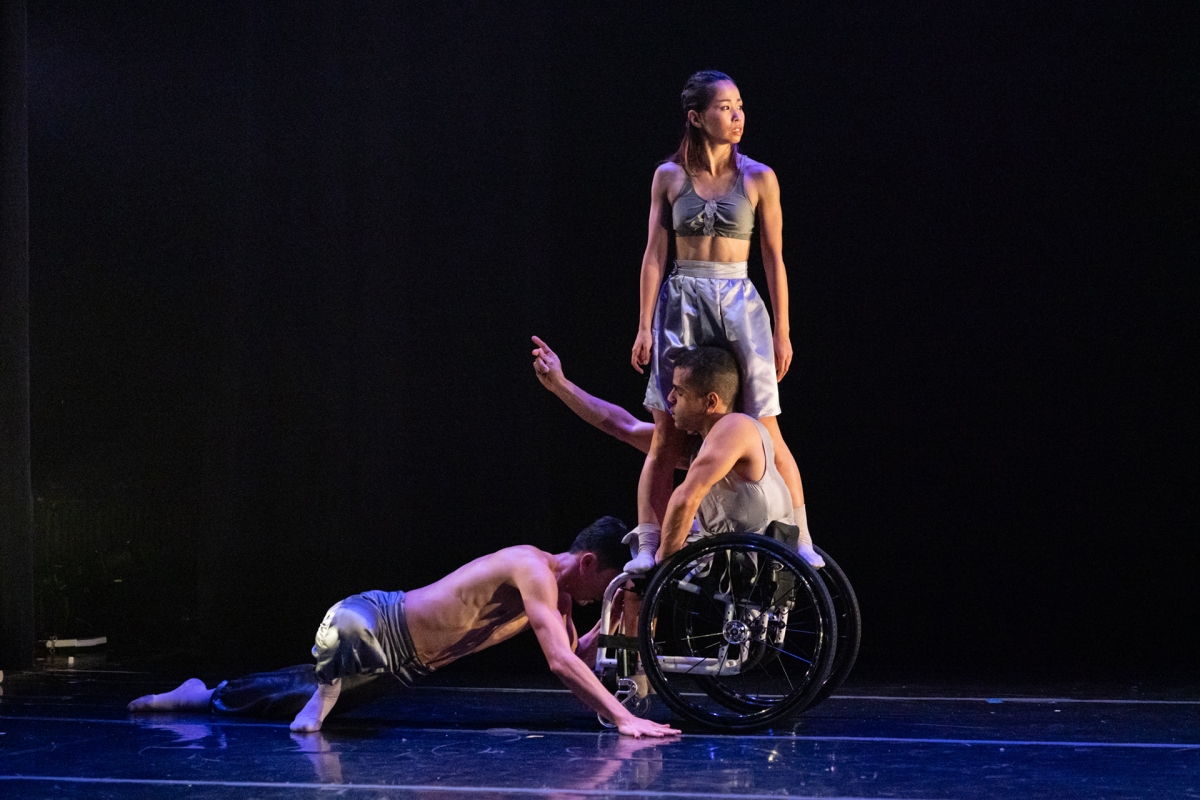 Image: Bradford Chin, JanpiStar and Yuko Monden Juma in Jennifer Archibald's Petrichor — the smell of earth after rain (2019) for AXIS Dance Company. Photo: Steve Disenhof
"Giving Students Agency"
Chin's graduate research encompasses not just teaching and choreographing for disabled dancers but also studying how disability and ableism impact all dancers, regardless of whether they consider themselves to be disabled.
One tenet of disability justice is making sure that the ones who are most impacted are the ones who provide the leadership and input.
"Because the ones dancing the work and performing it are the most impacted, that means they should have the power to take care of themselves and the process, adjusting individual rehearsals and trajectory based on their needs," Chin explains. "So the dancers are encouraged to convey what their body, mind, spirit needs as the process goes on. And to communicate that so we can treat them as individuals."
When Chin choreographs, he follows this process, serving more as a facilitator who shares the creative and choreographic process with the dancers. At first, this can be unnerving for students who are unaccustomed to it.
"But giving students agency and access allows them to see themselves in the world, not just as performers but as individual artists who have voices and can bring themselves into the work," Chin says.
Chin carries this ethos beyond the dance studio. He serves on the advisory council for the National Dance Education Organization, the UCI Associated Graduate Students council and the UCI Queer Graduate Caucus.
"Bradford builds bridges to start conversations across disciplines, with individuals with all different abilities," says Sharp. "He drives not just inclusion for the artform but inclusion and accessibility across all aspects of our community here at UCI."
Bradford builds bridges to start conversations across disciplines, with individuals with all different abilities.
"Dance is Teaching"
A love for teaching has been a constant in Chin's multi-faceted career. At UCI, he was accepted into the highly competitive Pedagogical Fellows Program, a campuswide program to train future faculty to be excellent teachers.
"Everything in dance is teaching," Chin says. "Communicating choreographic ideas to a dancer is an act of teaching. We're teaching the audience about who we are as artists. It's important for dance artists to recognize that they can't escape pedagogy."
At the Dance Escape 2023, as part of his M.F.A. thesis, Chin will showcase a new piece featuring two disabled dancers and incorporates an original poem by one of them. They will be complemented in their performance by undergraduate UCI dancers who are learning the best practices of disability in dance through the experience.
While this process is not common in the professional dance sphere — yet — the industry is actively grappling with issues of equity and representation. In just the last few years, high-profile companies have started allowing skin-toned tights and shoes for dancers of color. Chin believes it's important for university dance programs to lead the way in developing and training dancers in more inclusive methods and for UCI undergraduates to be prepared for the evolving dance field.
"Universities are sites of research and innovation — a lab where we can play and explore and, in doing so, find more freedom," he says. "We have a responsibility to envision a different future and to instill in students a spirit of asking questions of what we can do differently and how we can do better."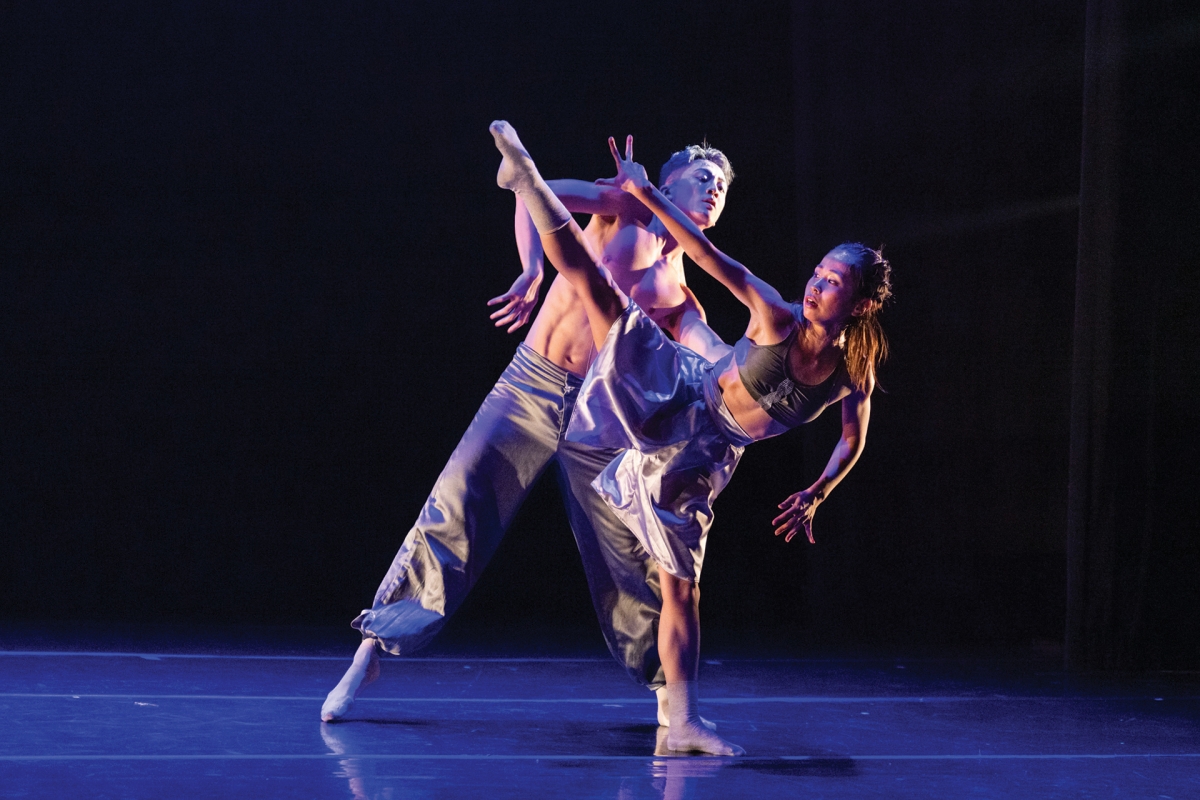 Image: Bradford Chin and Yuko Monden Juma in Jennifer Archibald's Petrichor - the smell of earth after rain (2019) for AXIS Dance Company. Photo: Steve Disenhof
---
Dance Escape 2023, the M.F.A. graduate student showcase, will run April 20-22, 2023. To purchase tickets, visit dance.arts.uci.edu/tickets.
Please visit our secure direct giving page and make a gift to support Dance today!
CONNECT - Spring 2023