Forging the Path Ahead
The ICIT Ph.D. program's embrace of diverse forms of music hit the right notes for percussionist, sound artist and educator JoVia Armstrong
By Greg Hardesty
JoVia Armstrong, a 2022 graduate of the Department of Music's Integrated Composition, Improvisation, and Technology (ICIT) Ph.D. program, recalls getting accepted into the prestigious Cass Technical High School in her native Detroit.
The four-year college and preparatory magnet school counts among its alumni such musical and acting luminaries as Diana Ross, Lily Tomlin, Jack White and Ellen Burstyn.
Armstrong, who began playing percussion instruments at age 8 when her older sister bought her a toy drum kit for Christmas and decided to become a musician when she was 12, was inspired by all the "amazing" musicians at Cass Tech.
"We all challenged and supported each other," she said, "and there were three Black women on the faculty. I never had the sense that, 'Oh, girls can't or don't do that."
Later, while working as a music technology teacher in Chicago and touring as a musician, Armstrong recalls showing three Black female teens how to use a beat-making machine.
"They were enjoying themselves for about 15 minutes until a few boys walked up, and then the girls started to walk away," she recalls.
"I asked them, 'Where are you going?'" 
"'Well,'" they responded, "'girls don't do this.'"
"'Do what?'"
The girls pointed at the beat-making machine.
"'Do that,'" they said.
All her life, Armstrong has believed she could do whatever she wanted. Become a female jazz drummer, when aspiring female musicians typically are encouraged to play the violin or flute?
Sure thing.
Armstrong credits her strong self-identity to a supportive family who didn't discourage her from pursuing her own path.
Self-identity turns out to be a big theme in Armstrong's UCI dissertation, which is about creating meditative music through the Black lens to combat unconscious bias. 
Armstrong thinks back to the three teenage girls who walked away from the beat-making machine.
"Here I was, a woman playing this machine, but they still didn't see me," he said. "To them, I was an exception, an anomaly. Who told them that? Who told them they can't do certain things because they're girls? That really struck me. I saw a bigger problem."
'A Great Fit'
Dismantling this "bigger problem" of racism and sexism in schools of music, which tend to focus on the Eurocentric canon, has been an ongoing focus of Armstrong — as has striving to get more members of underrepresented communities to see themselves in positions of leadership.
"You cannot become what you do not see," said Armstrong, who takes concepts from Black studies, feminism and environmental studies to create experimental and improvisational music, often utilizing computer technology to paint sonic universes that invite contemplation and meditation.
At Cass Tech, Armstrong mastered the cello and French horn in addition to the xylophone, tambourine, marimba and other orchestral percussion instruments.
She left Michigan State University to graduate from Columbia College in Chicago after veering from classical music into Afro-Cuban jazz and other complex rhythms from around the world, playing such instruments as the box-shaped cajon.
At Columbia College, where she earned a bachelor's degree in arts, entertainment and media management, Armstrong met Nicole Mitchell, a world-class flutist, composer, bandleader, scholar, educator and arts organizer and now a professor of music at the University of Virginia.
Between 2011 and 2019, Mitchell was a core faculty member of the ICIT program.
For years, she urged Armstrong to enroll in the Ph.D. program.
"I always thought JoVia would be a great fit for the ICIT program because she was a compelling composer and improviser and was already an experienced educator teaching music technology in Chicago for many years," Mitchell said. "I knew that she had something unique to offer in academia."
Armstrong, not wanting to be a touring musician forever — she has played internationally with groups such as the Black Earth Ensemble, Les Nubians, the JC Brooks Band and Musique Noire — finally applied and got accepted into the ICIT Ph.D. program in 2018.
"There was definitely something about UCI," Armstrong said. "For one, my musical background is not coming from the European canon. There are a lot of schools that are going to look at my background and look at what I do, and they might think it's too commercial for a Ph.D.
"But UCI was looking for people like me. They want to dismantle racism in music schools. I was drawn to the program because it was open to folks like me who do like jazz and hip hop and other popular forms of music."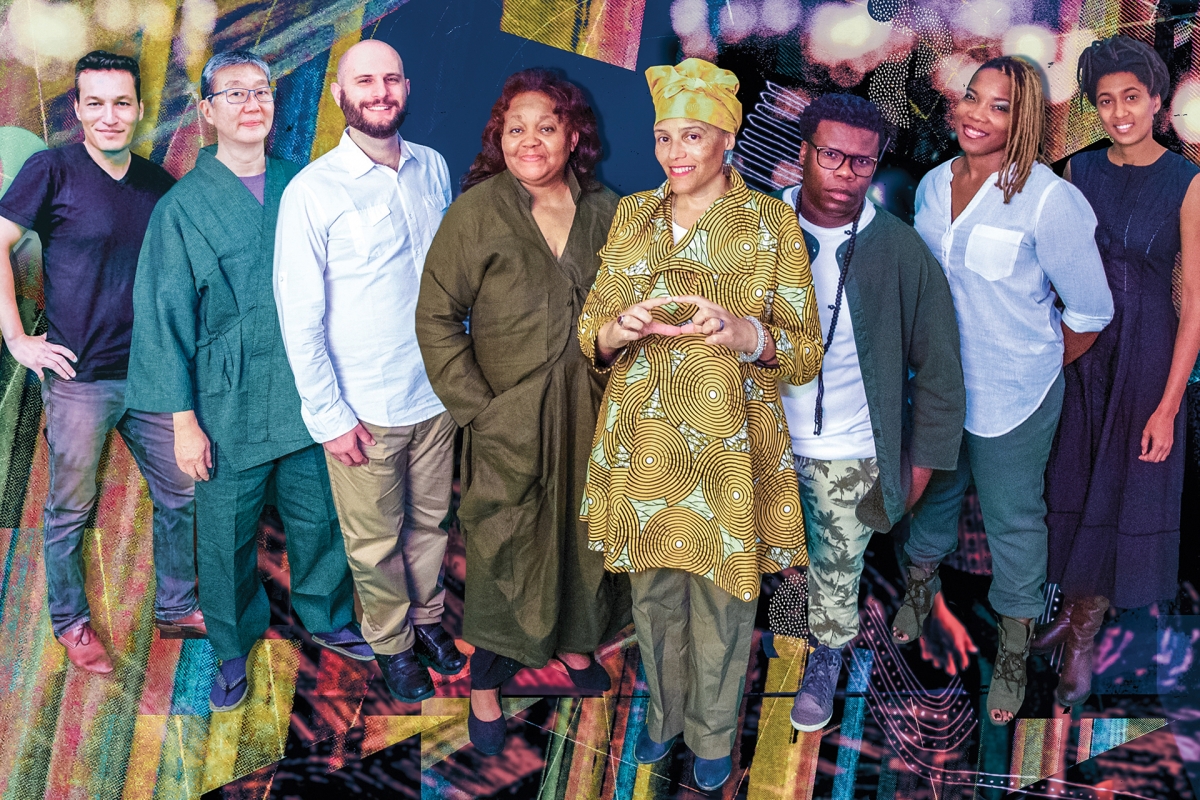 Image: Armstrong, before UCI, performed on Nicole Mitchell's 2017 album, Mandorla Awakening II: Emerging Worlds, featuring Mitchell's Black Earth Ensemble. (Left to right) Kojiro Umezaki, shakuhachi; Tatsu Aoki, bass & shamisen, taiko; Alex Wing, electric guitar, oud and theremin; Renée Baker, violin; Nicole Mitchell, flute & electronics; avery r. young: vocals; JoVia Armstrong, percussion; Tomeka Reid, cello & banjo. (Photo: Courtesy of Nicole Mitchell)
A 'Natural Teacher'
At the Claire Trevor School of the Arts, Armstrong collaborated with Professor Bridget R. Cooks on the latter's virtual exhibition The Black Index.
"I invited her to meet with me to talk about her work," recalled Cooks, a professor of art history and African American studies. "I was impressed by her, her ideas, and her performances that I'd watched online."
Cooks asked Armstrong to create a soundscape for the exhibition that visitors would hear as ambient sounds as they experienced the art by Titus Kaphar, Dennis Delgado, Kenyatta A.C. Hinkle, Whitfield Lovell, Lava Thomas and Alicia Henry — whose works "showcase self-representation as an antidote to colonialist images," according to the exhibition catalog.
Armstrong collected sounds offered by each artist in the exhibition and combined them with her own performance and aesthetic sense of composition to create Blackscape. Armstrong then offered to create a five-song suite inspired by the art in the exhibition she called The Antidote Suite after the catalog essay.
In 2022, Armstrong released the critically acclaimed album The Antidote Suite, performed by an ensemble in which she serves as bandleader called the Eunoia Society (eunoiasociety.com). The group's music, intended to be therapeutic entertainment and incorporating a hybrid cajon kit, electric bass, guitar and electric violin, relies heavily on repetition, drones, reverb, delays and other time-based processed effects.
Armstrong's dissertation advisor at UCI, Professor Kojiro Umezaki, a shakuhachi player and composer and professor of music in the ICIT program, calls Armstrong a natural teacher.
"Students and people, in general, gravitate to her," Umezaki said. "The range of expertise she possesses is exceptional: a composer who challenges herself to create music always with layers of social meaning and mindfulness, a degree in music business, a high level of studio experience and knowledge as a performer and producer, a bandleader, and an excellent musician with a unique concept around what it means to be a set drummer."
"The range of expertise she possesses is exceptional..."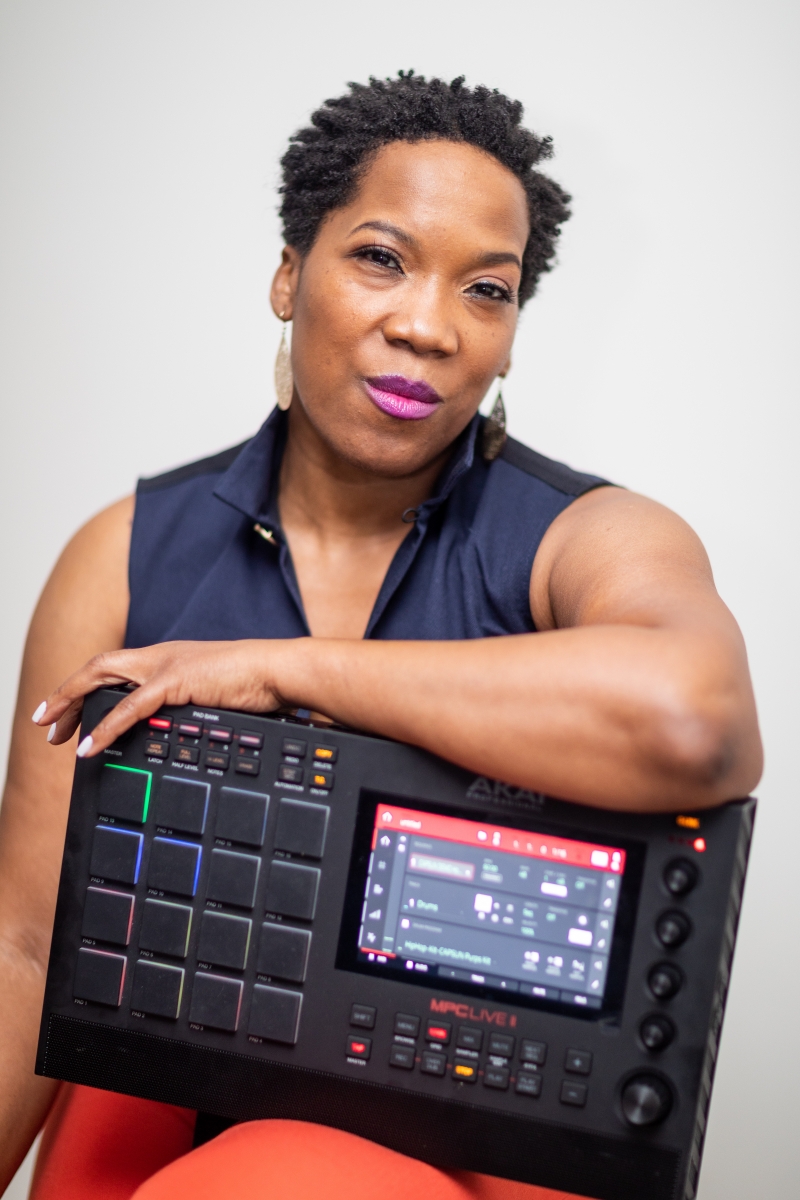 Image (left): Armstrong sits with the Akai MPC Live II, the latest version of the most popular beat machines to produce hip hop. (Photo: Jannatul Pramanik )
Umezaki shared that at UCI, Armstrong developed skills in practice-based research involving leading technologies for immersive sound, all within the context of a humanistic examination of the inequities certain younger generations are confronted with — especially women who at a younger age are discouraged from pursuing interests in technology and the arts.
"I feel truly fortunate to have had a chance to work with a one-of-a-kind person like JoVia," he added.
Said Armstrong of her experience at UCI: "It was great. It's exactly why I went back to school. I wanted to work on larger projects, such as with galleries and museums. I went back to school to pick up more skills in these areas and get back into those worlds."
No Mistakes
Armstrong now works with Mitchell at the University of Virginia, which hired her as an assistant professor on a tenure-track position in the Department of Music while she still was working on her dissertation at UCI. 
"I wasn't surprised that she got hired right away to such a prestigious institution," Mitchell said. "I'm really happy to have witnessed her success over the years."
Armstrong, a city girl most of her life, gravitated to the University of Virginia because of her desire to connect more with nature — Charlottesville is a short drive from the beach and mountains — as well as for another reason.
"I feel like the University of Virginia is truly trying to do the work of dismantling racism in schools of music," she said. "They're doing more than just diversifying the faculty — they're putting them in positions where they can make the necessary changes.
"Living in Charlottesville," she added, "gives me a sense of solace."
It's a similar vibe Armstrong felt when, at the height of the pandemic, she recorded demos in her bedroom in Los Angeles for "The Antidote Suite." The Eunoia Society held no rehearsals, and musicians had no charts to prepare for the recording.
Said Armstrong: "It was an attempt to test my own belief that there are no such things as mistakes and that perfectionism is not a feat to conquer."
---
To learn more about the Department of Music's Integrated Composition, Improvisation, and Technology (ICIT) Ph.D. program, visit music.arts.uci.edu.
To learn more about JoVia Armstong, visit www.joviaarmstrong.com.
Please visit our secure direct giving page and make a gift to support Music today!
CONNECT - Spring 2023